Follow Majestic Family Records:
Support on YouTube:
http://www.youtube.com/antonsheridan
Support on Facebook:
http://www.facebook.com/majesticfamilyrecords
Follow on Twitter:
http://www.twitter.com/majesticlabels
Listen on SoundCloud:
http://www.soundcloud.com/majesticfamilyrecords
Samples & Purchase:
Support on Traxsource:
http://www.bit.ly/Majestic-TS
Support on Beatport:
http://www.bit.ly/Majestic-BP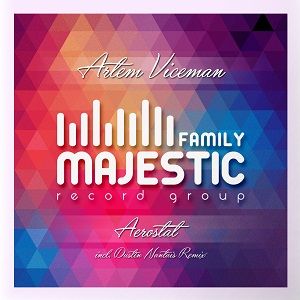 Download Link:
http://www.bit.ly/Majestic-BP
Majestic Family Records presents new release "Aerostat" from one of the best artists of the label "Artem Viceman"
This Russian musician is not the first time delighted us with their ideas and quality performance of their tracks.
Here you will find the original version of the track and a Remix from our good friend from Canada, rising star Dustin Nantais.
Info:
Cat#: MFR104
Beatport release date: October 27th, 2014
iTunes release date: November 24st, 2014
Genre: Progressive House
Format: Digital
Stores: Beatport, iTunes, JunoDownload
Tracklist:
1. Artem Viceman - Aerostat (Original Mix)
2. Artem Viceman - Aerostat (Dustin Nantais Remix)
Feedback:
Judge Jules, Shingo Nakamura, Max Graham, Gareth Emery, Kenneth Thomas, Markus Schulz,
Myon and Shane54, Andi Durrant, Above & Beyond, Paul Van Dyk, Andy Moor, Kash Trivedi,
Pete Simon, Kyau and Albert, Mike Koglin, Martin Soundriver, Tempo Giusto, Kris O'Neil,
Antillas, Suffused, Rafael Osmo, Danilo Ercole, Suzy Solar, James Warren, Andrew Quigley
Mistol Team, SEQU3l, Matt Cerf, STAMEN.
For More Information:
Website:
http://www.majesticshowcase.com
SoundCloud:
http://www.soundcloud.com/majesticfamilyrecords
Facebook:
http://www.facebook.com/majesticfamilyrecords
Twitter:
http://www.twitter.com/majesticlabels
YouTube:
http://www.youtube.com/antonsheridan